about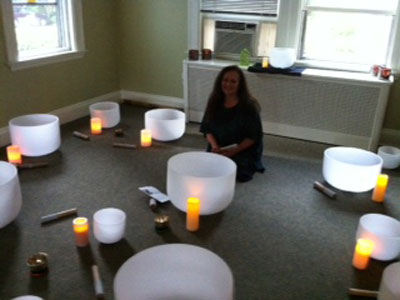 Priscilla Gale is a Reiki Master/Teacher of three traditions while holding various other Master Teacher certifications and Practitioner certifications in a variety of healing modalities: A Crystal Singing Bowl Practitioner, Himalayan Singing Bowls Master Certification, a Reconnective Healing Practitioner, Magnified Healing Level III Practitioner, Access Consciousness Bars Practitioner, and a Crystal Dreaming Practitioner. Recently, she received her certification as a Medical Intuitive and Spiritual Counselor.  In March of 2008, she became an ordained minister in the Universal Brotherhood Movement.
Ms. Gale travels extensively throughout the New England area, performing sound healing meditations in solo performance, as well as accompanying various yoga teachers in a variety of yoga practices in class.  In October of 2019, she was Presenter at the Holistic Health Conference at Leslie University in Cambridge, MA, and in January of 2018 she was invited to speak and give a workshop at Stamford's Medical Group Integrative Medicine Department.  At the 2016 Natural Living Expo she was The Featured Musical Artist Event with her Gongs & Himalayan Singing Bowls, to well over 350 attendees.  For the past three years, she has lead weekly/monthly healing meditations for cancer patients and their families and friends through Hartford Hospitals' Integrative Medicine Department with both Gongs & Himalayan Singing Bowls as well as a full spread of Crystal Singing Bowls.  In addition, she has taught Reiki Training Levels I, II, and III Master/Teacher classes through Hartford Hospital's IM Department as well as in private practice.  She has also lectured and lead meditations at St. Francis/ Mt. Sinai Hospital in Hartford through The Good Works program.   In addition, she offers sound healing meditations at Concord Hospital's Center for Health Promotion in Concord, NH.  Her Article entitled "Healing Through Singing Bowls with Reiki" was published in the 2016 Spring Issue of Health & Wellness, Stonehedge Press in Massachusetts as well as in the October issue of Natural Nutmeg, Connecticut.  Her Article entitled "The Benefits of Mindful Meditation with Sound Vibration in the Corporate Environment" was published in both the Boston and Hartford Natural Awakenings June 2019 editions.  Most recently she recorded and released 5 Gongs & Himalayan Singing Bowls Sound Healing Meditation CD's.
In addition to being a Reiki Facilitator and Sound Healing Practitioner, she now offers Crystal Bed Healing Therapy with Sound Vibration, both in public meditation/workshops and private sessions.  Unlike most Crystal Bed Healing practices, rather than recorded music through headphones, Ms. Gale plays her Crystal and Himalayan singing bowls surrounding the client in sound vibration during the entire session. 
Ms. Gale offers her services for private sessions at Avant-Garde Holistic Center, Branford, CT and at her office location in Wallingford, CT. as well as additional various locations throughout Connecticut.  In Massachusetts, she offers her services at Just Breathe, Westborough, MA, as well as in her home in Stow.  Ms. Gale is herself a recipient of the powerful healing capabilities of sound vibration having beaten and survived cancer in 2014 without the need of chemotherapy or any other type of cancer treatments, baffling doctors and surgeons alike.
Having attended both the Juilliard School of Performing Arts and the Cleveland Institute of Music, she retired in 2004 from a 30 year distinguished operatic career throughout the United States and Europe, to focus on teaching and studying holistic healing arts.  Currently for the past 26 years, she has been on the voice faculty of Wesleyan University, Middletown, CT, where she also instructed the Opera/Oratorio Ensemble workshop for 11 years, mounting the first opera production in the history of the University. She is also teaches Music History at Middlesex Community College, Middletown, CT., while maintaining a private voice and piano studio in her home in Stow, Massachusetts.
Priscilla is a Reiki Master/Teacher of 3 Traditions, holds a Master Certification in Himalayan Singing Bowls and is a Crystal Singing Bowl Practitioner. In addition, she is a Reconnective Healing Practitioner, Magnified Healing Level III Practitioner, Consciousness Bars Practitioner, and a Blue Moon Isis Master/Teacher as well as trained and attuned to Atlantean Crystal Activation and Initiation into the Templar Degree of Christ Consciousness.  Believing healing is more than a mind-body-spirit connection, Priscilla believes it is a mind-body-spirit union.
Formerly an international opera singer, now as Minister and High Priestess, her ministry extends throughout New England, traveling with her bowls giving public workshops and meditations, as well as private healing sessions. Music holds a key to remembering our origin, from where we came. Music reconnects us to Divine Source.
Read a more complete resume of Priscilla Gale