about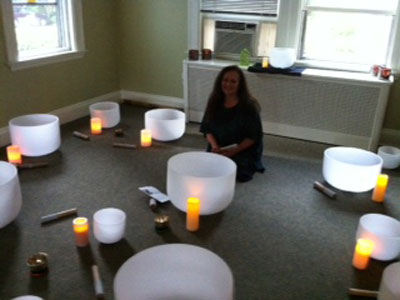 An Ordained Minister with the Universal Brotherhood Movement, Priscilla believes that we are all connected to a Universal Mind (Source, Spirit, God, Goddess, Higher-Intelligence), by whatever name you call it.  While we may be all separate individuals, we are all One, having been spun from the loving hand of the Divine.  Therefore we are all divine, and we are all love, effectively all One; one Spirit.  And if we are all love and have within us that which is divine, then we are connected not only to each other, but also to that one universal mind/intelligence. 
Priscilla is a Reiki Master/Teacher of 3 Traditions, holds a Master Certification in Himalayan Singing Bowls and is a Crystal Singing Bowl Practitioner.    In addition, she is a Reconnective Healing Practitioner, Magnified Healing Level III Practitioner, Consciousness Bars Practitioner, and a Blue Moon Isis Master/Teacher as well as trained and attuned to Atlantean Crystal Activation and Initiation into the Templar Degree of Christ Consciousness.  Believing healing is more than a mind-body-spirit connection, Priscilla believes it is a mind-body-spirit union.
Formerly an international opera singer, now as Minister and High Priestess, her ministry extends throughout New England, traveling with her bowls giving public workshops and meditations, as well as private healing sessions.  Music holds a key to remembering our origin, from where we came.  Music reconnects us to Divine Source.